5 Best Menopause books Reviewed
Menopause is called The Change or Second Puberty for a reason. Some menopausal women feel the impact in nearly every aspect of their lives — from their body and mood to their sleep and sex life.
Chatting with your girlfriends is helpful, but often women have very different menopause experiences. Luckily, there are new and informative books being written about perimenopause and menopause every year.
If you've already learned the menopause basics, it might be time to level up your knowledge!
Below are some of the newest must-read menopause books that are worth picking up.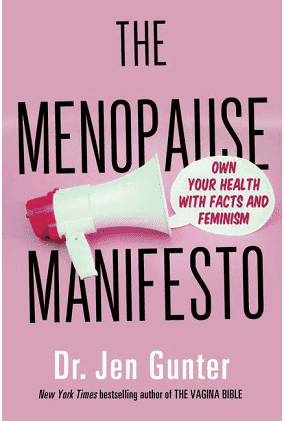 The Menopause Manifesto, Dr. Jen Gunter brings you empowerment through knowledge by countering stubborn myths about menopause and misunderstandings about menopause ard facts, real science, fascinating historical perspective, and expert advice. The only thing predictable about menopause is its unpredictability.
Jen Gunter is board certified in OB/GYN and pain medicine. She writes about the intersection of women's health, sex, science, and pop culture for the New York Times. She has been called a fierce advocate for women's health, Twitter's gynecologist, and "strangely confident" by GOOP.com. She believes an empowered patient requires facts and she is here to fix the medical Internet and smash the patriarchy. In addition to The Menopause Manifesto, she also wrote The Vagina Bible.
This book addresses perimenopause, hot flashes, sleep disruption, Sex life and libido, Depression and mood changes, Skin and hair issues, Outdated therapies, Breast health, Weight and muscle mass, Health maintenance screening
This book is available at Amazon, Target and other booksellers.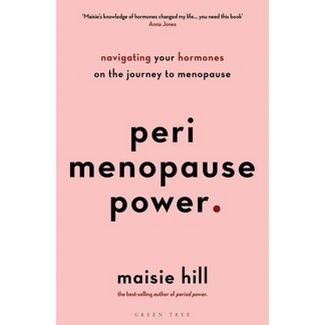 From the author of Period Power comes the empowering guide to menopause that all menopausal women need, packed with advice on dealing with symptoms of menopause and understanding the most effective treatment options. This is a book for women experiencing perimenopause and menopause who want to understand what's going on with their bodies and how to deal with annoying common menopausal symptoms, but also gain valuable insights into making menopause a positive and powerful experience.
Maisie Hill is a highly qualified and sought-after expert in menstrual health and is the author of Period Power, a book lauded as 'life-changing' and 'essential' by readers. For over 15 years Maisie has worked with clients to support them through all aspects of their hormonal journey – from menstruation to menopause and beyond. She hosts the Period Power podcast and is the founder of The Flow Collective, an online community that helps members to harness their hormones and get their cycle working for them.
This book is a complete guide of perimenopause and menopause that offers guidance on the typical menopause symptoms but also helps women handle this stage of midlife in a confident and positive manner.
This book is available at Amazon, Target and other booksellers.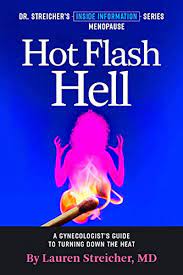 Hot Flash Hell: A Gynecologist's Guide to Turning Down the Heat, is part two of Dr. Streicher's Inside Information Series, a collection of menopause solution-driven and highly entertaining books targeting specific issues that mid-life women face as they navigate perimenopause and post-menopause. The reader will get to know 49-year-old Francey as she navigates vaginal dryness, hot flashes, dating, cancer, losing her libido, and incontinence. SLIP SLIDING AWAY: TURNING BACK THE CLOCK ON YOUR VAGINA is the first book in the series and each book in the series stands alone or can be read in combination.
Lauren Streicher, MD is a Clinical Professor of Obstetrics and Gynecology at Northwestern University's medical school, The Feinberg School of Medicine, and the medical director of the Northwestern Medicine Center for Sexual Medicine and Menopause. She is a Certified Menopause Practitioner of the North American Menopause Society. She has devoted her career to the premise that if women are given good information, they will make good decisions for themselves and the people around them. To that end, in addition to her practice, research, and teaching activities, Dr. Streicher had dedicated her time to educating women through consumer publications and media appearances.
This book primarily focuses on hot flashes and night sweats and will walk you through everything you need to know about what to expect and all of your options to alleviate those all-day, all-night surges of heat.
This book is available at Amazon and other booksellers.
Hormone Repair Manual is a practical guide to feeling better in your 40s, 50s, and beyond. It explains how to navigate the change of perimenopause and relieve symptoms with natural treatments such as diet, nutritional supplements, and bioidentical hormone therapy.
Lara Briden is a naturopathic doctor and bestselling author of the books Period Repair Manual and Hormone Repair Manual — practical guides for treating period problems with nutrition, supplements, and bioidentical hormones. She has more than 20 years experience in women's health and currently has consulting rooms in Christchurch, New Zealand, where she treats women with PCOS, PMS, endometriosis, perimenopause, and many other hormone- and period-related health problems.
Topics covered include: Why everything is different after "second puberty", perimenopause, weight gain during menopause, night sweats, insomnia, migraines, and more.
This book is available at Amazon, Target, and other booksellers.
Packed with answers to common questions and helpful insights, infused with Dr. Suzanne's expert, but warm, and sometimes, laugh-out-loud honesty, Menopause Bootcamp is a welcome invitation to embrace and even celebrate this remarkable developmental phase in the lives of women. It's a welcome reminder that life doesn't end at menopause—it's the start of something new and wonderful.
Over the course of her twenty-year medical career, health expert Dr. Suzanne Gilberg-Lenz noticed a shocking dearth of information and support for women beginning and experiencing menopause. For too long, this crucial stage in women's lives has been given perfunctory notice in medical schools and is often either a hidden secret or the punchline to a joke—denying women the information and support they need. This disregard, coupled with the unconscious misogyny and ageism that run rampant in our culture, portrays menopause as something to be afraid of, and worse, adds a patina of shame around the blessing of aging and the beginnings of a new, normal, and enriching phase in a woman's life.
This book is thoughtful, candid, modern, holistic information about the physical and psychological issues that arise in this transitional stage, including changes in libido, metabolism, body image, and fears over genetic age-related illnesses. She contends that menopause is a whole life condition and deserves a wide-ranging approach that combines meditation, yoga, therapy, and herbal supplements, along with the most-up-to-date science and conventional medical solutions
The digital version of this book is available now for preorder and will be available in October through Amazon and Barnes and Noble.
When our mothers and grandmothers were going through menopause they were expected to quietly tolerate this stage of life. Thankfully, now women talk more openly about menopause and there are so many helpful resources from books to podcasts to websites.
Did we miss any books? What are your favorite books about menopause?