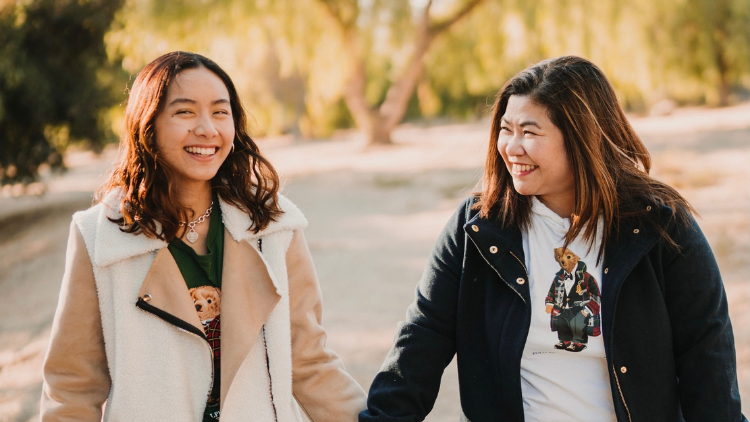 Hello Again's Julianna Montano reflects on the gender roles that influenced her mother and what has changed for Julianna's generation.
I know it's pretty cliche to say that your mother is the strongest woman you know but how could that not reign true for many individuals? The maternal figures in our lives are the women we always see beyond face value. No makeup, photo filters, or scripted interviews. My mom is the realest glimpse into womanhood that I have apart from my own attempts to navigate such experiences.
I will always be grateful for my mom being so unfiltered and authentic about her upbringing in a culture that was heavily gendered. For this Mother's Day, I took the opportunity to dive deep into these experiences and uncover how it has shaped the way she has raised me–her only child and daughter.
Haha, are you nervous? Is it weird that I am interrogating you?
Mom: No, haha, I'm just wondering what there is that you don't already know.
Well, we don't have to unpack everything from the start. We should probably start with the dynamic between you and your siblings.
My mother is the eldest of three children–a middle sister and a male "bunso" (Tagalog term for the youngest child). They aren't too far apart in age but my mom frequently took a maternal role over her siblings because her parents were busy contractors and entrepreneurs. It was also customary for the females in the family to perform all the housework, no matter the age. I recall my mom frequently telling me that there's a method to sweeping the floors that she has adopted since she was 7 years old.
Mom: Well, as the eldest, I did most of the heavy chores. Cleaning the house, changing my younger siblings' diapers. I was a second mom. Even though we had helpers to do most of these things, I was expected to learn from them. Every woman should know how to maintain a clean home.
From my understanding, your younger brother did not really partake in the cleaning, haha.
Mom: No, definitely not. He was definitely groomed to take on the family business from a young age. And it's not so much that my parents were not thinking that me or my sister were unqualified to take on the job… but I got pregnant and married young and that was kind of a scandal for a known and affluent family in the Philippines.
I had always known how much of a struggle it was for my mom to live with the fact that she became pregnant unexpectedly. She recalls a lot of shame from this time and the tribulations of rekindling a healthy relationship with her family. In the midst of all of this, they were immigrating to the United States but for some reason, she felt like she was to blame for the multiple sources of stress they were experiencing during this turbulent time.
I know we joke about it all the time, but do you think it's evident that there is a family favorite? And do you feel like gender still plays a part in that?
Mom: While it was incredibly difficult to regain the trust and belief of my parents, they always supported my early career and pregnancy. They may have been disappointed but they continued to love me. I earned my rights by supporting the home in any way I could, and they also stepped up to the plate when I needed it most. However, it's clear that no matter how successful and resilient I proved to be now, the pregnancy is still a bit of a scar on our relationship. Maybe I was supposed to take on the business, maybe they did see me in the role that my brother now has.
But that's precisely the thing. He's the youngest and he is the only son. Even if I had the perfect track record, he would still be the embodiment of my father's lasting legacy. That's the relationship a lot of fathers in the Philippines yearn for. It's not necessarily who is the better or more deserving child, but it is a question of identity. How much could my father, the patriarch of the home, see himself in me? In my struggles? Perhaps not much.
My brother on the other hand, though his responsibilities weren't to be the chef or the maid, he was expected to be strong and brute. He needed to be a leader and abandon his sensitivity at times. He had to overcome underage tobacco use and drinking. Be a businessman at a young age. I can't see how either of us got the better of the two treatments. And perhaps the treatment he received is a reflection of my father's experience with his own male-dominant family. Whether it's cleaning or running a business, we had expected roles and it was our obligation to our parents to carry those out as best as we could in gratitude for the hard work they were also putting into us.
Admittedly, I do not know if I would be as nonchalant about having to clean 24/7 if it shielded my own prospects of having a business or doing something I truly wanted to do. But I am grateful that my mom understands that I am better equipped for things outside of the home. While it does annoy her that, on occasion, I will neglect her coveted sweeping method, she knows I have sights for other things. She asserts that a well-rounded human being, man or woman, is able to reconcile their responsibilities between work and home. Everyone should learn to provide for themselves and a large part of that is the "matriarchal" duties modern society willingly dismisses as feeble or easy work. It is not.
It is easy to forget how much a woman contributes to their home because for many, cleanliness is a luxury that we can forget takes work to maintain. While my mother works a full-time job, just accomplished a Master's degree, and runs her own side hustle, she still finds the time to bleach the floors and give her windows a good scrub down. Despite the doubt others had in her as a young mother, she has redefined her role as a productive and successful woman. However, she never abandoned the skill sets that made her valuable as a member of her family as well.
by Julianna Montano
Julianna Montano is a pre-law, pre-pharmacy undergraduate at University of Southern California. She is also the president of their brand new cannabis education organization Cannabis at USC, whose goal is to reconcile cannabis's reputation with college culture and research-based sensibility. Her mom is her number one supporter which is evident in the numerous, positive LinkedIn comments she leaves on Julianna's status updates.