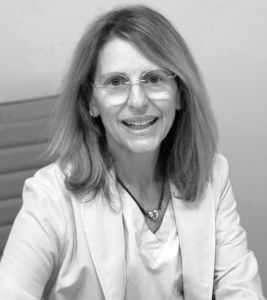 Dr. Bone is a board-certified OB/GYN with 30 years experience treating women in Palm Beach County, Florida. She received her undergraduate degree in Russian Language and English Literature from Georgetown University where she graduated magna cum laude and was elected to the Phi Beta Kappa honors society. She went on to medical school at Albany Medical College where she earned her MD with Alpha Omega Alpha honors as well. After medical school, she did her residency at George Washington University and served as Chief Resident.
Following her medical training, Dr. Bone moved to Florida to join a large OB/GYN group. She married in 1992 and started a family. In 1999, when her children were 1,2,3, and 4, she opened a small boutique private practice. Then, just a year later, she was diagnosed with Stage lll breast cancer. After a year of treatments, she went back to work, eventually giving up obstetrics. After years as a solo-practitioner, Dr. Bone decided to sell her practice in 2011. From 2011-2018 she worked for HCA and with another large group.
In 2016, Dr. Bone started seeing medical cannabis patients 1-2 afternoons per week. She slowly grew her practice until, in April 2019, she decided to take a year of sabbatical from gynecology to devote herself to cannabinoid medicine. The Kessler Foundation approached her to run a study on cannabis in the over-65 population at MorseLife. She has been actively involved in this undertaking since April, and also maintains her private practice in cannabis in West Palm Beach.
Dr. Bone believes that education is the key to understanding cannabinoid medicine and she lectures to both her colleagues and to the public at large about cannabis medicine, and writes for magazines and journals as well. She is on the medical advisory board of YourDaye, a UK-based start-up in women's health care products which contain CBD, and works with Hello Again, a company devoted to menopause-related cannabinoid products. She consults for many cannabis entities and does on-line medical second opinions for a company in Texas.
In her spare time, Dr. Bone is devoted to her family. Her children are now 25, 24, 23, 22, and 18 and she is happily married to Ernesto. They travel extensively (pre-COVID) and love to play tennis and backgammon.