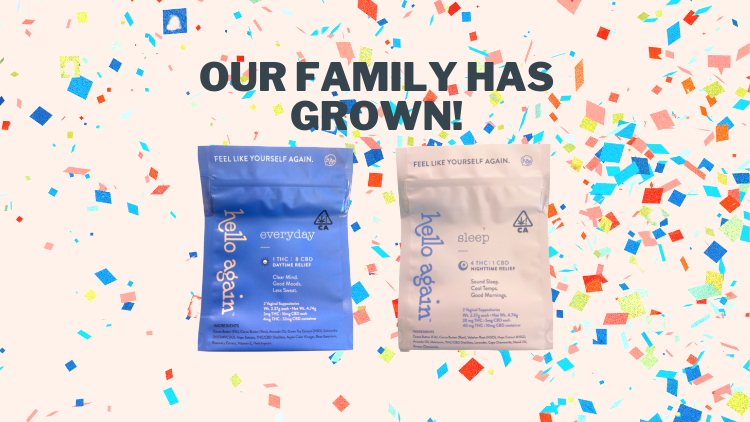 Earrings, shoes, airpods…so many good things come in pairs. And now Hello Again does too! Our family of products has grown and we are excited to introduce our adorable little Two-Packs.
Why do we love our Two-Packs?
You can take them anywhere. They fit in your purse, your pocket, even your bikini bottom. They fit in your desk drawer, backpack and make-up bag
With Hello Again Two-Packs, you are always prepared to strengthen your V-Force because sometimes a girl needs a little help. Having a stressful day at work or school? Feeling anxious? Do you have low energy? Are you irritable? Do you have a headache or cramps? Personal dryness got you down? Hello Again is a natural way to help you feel like yourself again. 
Our Hello Again Two-Packs are now easier than ever to buy and try. Nervous about using cannabis for your health? Unsure about using a suppository? The Two Packs are a perfect place to start. We know once you try us you are going to love us.
So welcome to the Hello Again family, little ones. You are going to be a great addition to our crew.
Speaking of additions to our crew, thank you Calma WeHo, for being the first dispensary to carry our little ones.  They are in good hands with you!
The Hello Again Team